The decision to divorce a spouse, relinquish care of your child to a custodial parent, and divide marital assets will be felt for many years by every member of your Nebraska family. At this difficult time, an experienced family law firm can give you the strength and confidence you need to move on with your life. For trusted advice and valued results, come to Adams & Sullivan, P.C., L.L.O.,  in Papillion.
Since 1951, our law offices and its predecessors have faithfully and successfully served individuals, couples and families in Greater Omaha with divorce and post-divorce issues that transition you and your loved ones to a brighter future. Our lawyers listen carefully to your wishes, respond with realistic assessments, and work hard to negotiate a favorable outcome for your uncontested, contested or high net worth divorce.
We also believe deeply in "the best interests of the child" and do whatever we can to minimize the potentially negative impact of divorce on children and help both parents maintain a prominent role in a child's upbringing.
To arrange your initial consultation with one of our caring Nebraska family law attorneys, contact us at Adams & Sullivan.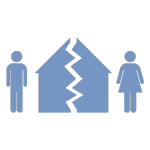 Our attorneys use their many years of experience, legal knowledge and personal service to protect your financial and emotional investments in your marriage — to end it with the dignity it deserves. Contact the skilled Omaha family law lawyers of Adams & Sullivan to arrange your initial consultation.
P

Uncontested / contested & high-asset divorce

P

Military divorce

P

Child custody and visitation

P

Child support and spousal support

P

Property division

P

Investigation of hidden assets

P

Post-judgment modifications of custody and support

P

Contempt orders and enforcements of settlement agreement obligations

P

Paternity issues

P

Prenuptial and postnuptial agreements

P

Adoptions