Guardianships & Conservatorships
To establish a trust that benefits your loved ones, or a guardianship or conservatorship for a relative with special needs, our experienced Nebraska family law and estate planning lawyers can help. We are the Adams & Sullivan, P.C., L.L.O., law firm in Papillion serving clients just like you in Greater Omaha since 1951. Individuals and families who come to us receive trusted advice and valued results for estate, trust administration, probate, and conservatorship or guardianship goals.
If an unfortunate event happens and you or a loved one do not have a health care power of attorney established, you can count on our effective, cost-efficient representation. Does a family member need assistance with organization and management of finances, health care and daily affairs? Adams & Sullivan lawyers are here for you.
If your relative's condition is progressive, please do not delay in contacting us for an initial consultation.
Under a guardianship, a person is appointed legal guardian and bears responsibility for making decisions on personal affairs and lifestyle matters — someone to oversee medical care and dignified living conditions, provide constant and direct supervision where necessary, or determine levels of care in a nursing home or assisted living facility.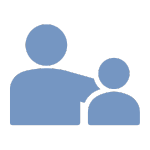 In a conservatorship, typically a senior relative has been determined to be mentally incapacitated and has assets that should be protected by a conservator, who manages those assets. The conservator may also serve as a guardian. This management is reviewed annually by a probate court.
Adams & Sullivan attorneys understand how sensitive these issues can be, and work hard to create practical, lasting solutions that bring you and your family peace of mind. Contact our skilled Omaha guardianships attorneys to discuss your wishes and objectives.
Call 402-339-9550 or contact us to arrange your initial consultation.