Workers' Compensation & Personal Injury
Are you struggling with the physical, emotional and financial setbacks of a personal injury suffered in an accident caused by someone else? In Papillion, Greater Omaha and throughout Nebraska, the attorneys at Adams & Sullivan aggressively protect your rights when a negligent motorist seriously injures you — or a loved one is injured or loses his or her life in a workplace accident. We leave nothing to chance in pursuing your personal injury or workers' compensation claim. Our skilled legal team conducts an in-depth investigation of what happened. We identify the party responsible for your injuries or a relative's death, and bring the facts of your case to effective negotiations with an insurance company. If necessary, we are fully prepared to take your case to a courtroom to actively litigate in your best interests.
Whether you were seriously injured on the road or on the job, Adams & Sullivan brings our reputation for trusted advice and valued results to your side. Contact us for a free consultation that can take place at your home or hospital room if you cannot travel.
At Adams & Sullivan, we are all about your comfort and convenience. For example, we offer a contingency fee basis for our personal injury and workplace injury representation. This means that you owe nothing for our quality legal services unless we collect on your case.
We are available to you throughout the entire legal process and are always here to answer any questions or concerns that may arise. We understand that the legal process can be confusing at times and our job is to make it as easy as possible on you.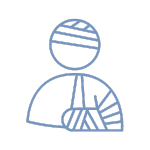 Our skilled statewide personal injury and workers' compensation law firm can help you if you were injured, or if a family member suffered fatal injuries and wrongful death, in a/an:
P

Car, truck or motorcycle accident

P

Bicycle or pedestrian accident

P

Slip-and-fall on unsafe property

P

Construction accident or any workplace accident

P

Abuse and neglect in a nursing home

P

Product liability
We want you to have complete peace of mind that your legal affairs are being handled with poise and professionalism — that we are actively pursuing the maximum financial compensation you need to defray lost wages, medical bills and motor vehicle replacement costs; therefore allowing you to return to work as soon as possible.
Your initial consultation with our compassionate Omaha personal injury and workers' compensation lawyers is free of charge. Contact us today.