Whether you own a business, manage a department, or work for an organization, you undoubtedly face labor and employment issues ranging from human resource policies to compliance with federal, state, and local laws. When you have questions about your human resources practices, need advice about union contract negotiations or administration or require legal representation in grievance, arbitration or court proceedings, you need an experienced attorney who is dedicated to protecting your interests.
At Adams & Sullivan, P.C., L.L.O., in Papillion, our labor and employment lawyers provide trusted advice and valued results to employers and employees facing serious legal issues — and have since 1951. We customize our representation to fit your specific needs, negotiate skillfully on your behalf and, if necessary, are fully prepared to litigate in court, on your behalf.
Your initial consultation with one of our Omaha employment law lawyers can be arranged today if you contact us or call 402-339-9550. Our law offices are conveniently located directly across from the Sarpy County Courthouse in Papillion, Nebraska.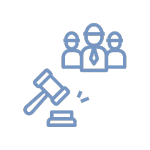 Our Greater Omaha law firm offers creative, effective, cost-efficient advice and representation for:
P

Reviewing and drafting employee handbooks

P

Responding to discrimination and retaliation charges with the EEOC, NEOC & other administrative agencies

P

Preparing and negotiating employee and union contracts

P

Litigating ADA, FMLA, and Title VII claims

P

Conducting internal investigations

P

Providing Human Resource training